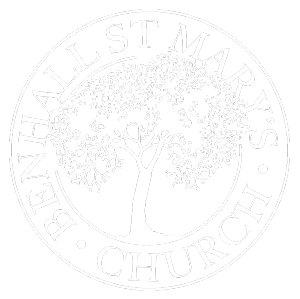 We invite you to browse St Mary's Church service calendar below which includes both Benefice Holy Communion and our own regular services. The congregation at Benhall welcome you to join their worship throughout the year.
Until further notice, Services and Church Gatherings have been suspended due to Coronavirus.
Our Church yard remains open at all times for personal reflection and prayer, however the Church itself is closed to visitors.
If you would like someone to talk to during the coming weeks, please contact Rev Rachel Cornish on 01728 768136, or one of our Church Wardens, Carolyn Glennon on 01728 605761 or Elaine Hawes on 07796 687252

RECTOR
Reverend Rachel Cornish: 01728 768136 reverend@benhallstmarys.co.uk
BENEFICE ADMINISTRATOR
Mrs Ann Boulter: 01728 831485
CHURCH WARDENS
Carolyn Glennon: 01728 605761
Elaine Hawes: 07796 687252
St Mary's Church is part of the Alde River Benefice and can be found on:
Dead Mans Lane, Benhall, Suffolk IP17 1JL