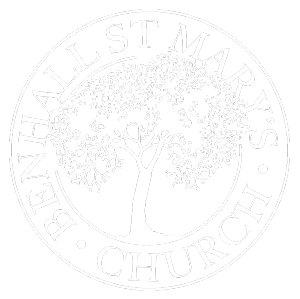 Music plays a vital role in bringing our congregation and the members of the Benefice together. Our flexible space at the Church, including removable pews and 'backstage' facilities, make it ideal for live performances. Below are details on how you can get involved.

The Alde River Benefice Choir
The Alde River Benefice Choir is based at St Mary's, Benhall. We rehearse twice a month and are involved in worship at Benefice Services. We also sing at other services, including Nine Lessons and Carols, Choral Evensong, Taizé Services, and the occasional wedding. We sing a wide variety of music, from the very modern to the very ancient! 
Who's in the choir?
At present we are a choir of up to about 15 adults (men and women), although we have a number of extra singers who join us for big services.
New singers are always welcome – we would be pleased to welcome children aged 8+ as well, though this will need to be discussed in advance with Hannah.
Do I need to be able to read music?
Obviously, it is helpful if you can, but it is certainly not a requirement, and help learning music is always available for those who need it.
When do you practice?
We usually practice on the first and third Saturdays of the month, from 9-10am at Benhall Church.
Are there any auditions?
NO!
Can I come along and see how it goes?
Yes, of course you can. Just turn up, and we will be delighted to welcome you.
Get in touch
For further information about the Alde River Benefice Choir, please contact Hannah Pemberton on 01728 652802 or
hannahpemberton@outlook.com
Current Rehearsal Information
Choir rehearsals will usually be held on the first and third Saturdays in each month, from 9.00am to 10.00am in St Mary's Church, Benhall. In the run-up to special events, additional services are arranged.
Organ and Instrumental Music
We are delighted to welcome organists and other instrumentalists to join our music team at Benhall Church. Our communion services are generally accompanied on the church organ, and our family service features both organ and a small music group.
If you would like to join us, or if you have any further questions about music at Benhall, please contact Hannah on 01728 652802 or hannahpemberton@outlook.com

CURATE
Reverend Bill Sokolis: billsokolis51@gmail.com
BENEFICE ADMINISTRATOR
Mrs Ann Boulter: 01728 831485
CHURCH WARDENS
Carolyn Glennon: 01728 605761
Elaine Hawes: 07796 687252
St Mary's Church is part of the Alde River Benefice and can be found on:
Dead Mans Lane, Benhall, Suffolk IP17 1JL